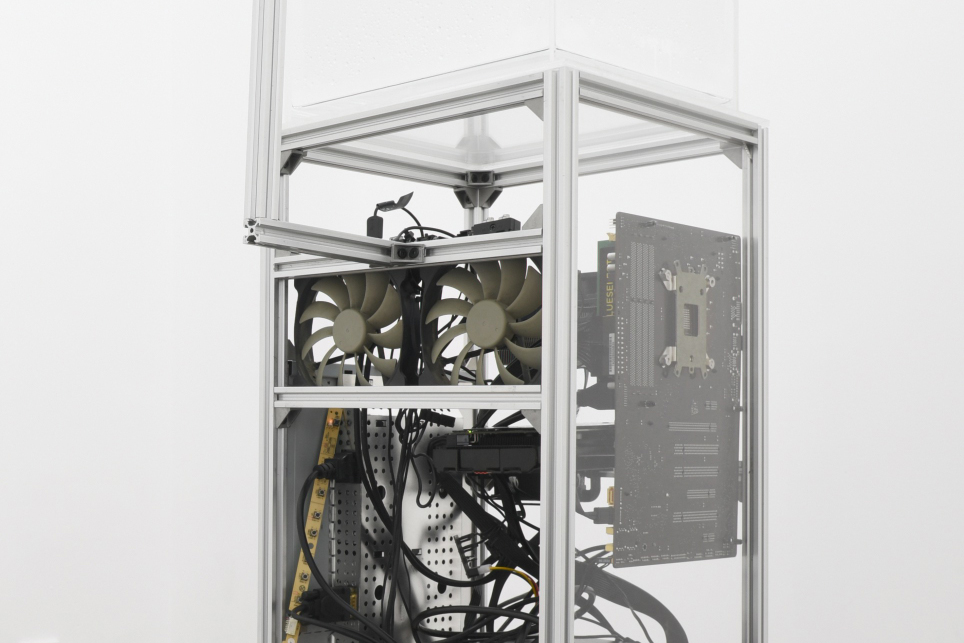 ---
---
The miniscule average time spent looking at individual artworks in exhibition—purportedly between fifteen and thirty seconds depending on which study you cite—is often taken as evidence of a crisis at the level of attention. The culprit, predictably, is some kind of electronic media (television, video games, social media, whatever you think you're better than) and the rapid contemplation of artworks is frequently viewed as evidence of a broader cultural decline.
But people rarely go to galleries and museums to look at one or two artworks. Visitors to such institutions often spend hours engaging with collections and major curated shows, moving from one aesthetic marvel to the next in fifteen to thirty second intervals. As such, one could wonder whether the standard cultural critique is entirely backwards; rather than a bunker in which we can hide and endure Silicon Valley
barbarie
, perhaps the modern exhibition space is the forerunner to the distracted mode of attention associated with contemporary media like TikTok. Regardless of the normative position one takes on the desire to flit between short aesthetic experiences, such a desire has expressed itself in numerous contexts—channel surfing, web browsing, swiping on TikTok, and of course in the drift through the exhibition space. Aside from the question of whether people
should
expend their attention like this, there are questions to be asked about what separates freedom from control, meander from machination, care from manipulation, and curation from algorithmic governance.
All of these questions feel pertinent when considering Oliver Hull's
Random Cube
at Disneyland Paris (Boorloo). As described by the artist,
Random Cube
"converts a replica of the
Condensation Cube
by Han Haacke into a hardware random number generator" that then drives a computer to "move the mouse, click, press keys, and scroll based on the output random numbers". The results of these random directions are made visible through a monitor connected to the work's aluminium frame. On entering the gallery, the screen happened to display a YouTube trailer for a Jason Statham movie that was hyperactively paused, played, and resized. Moments later, a series of inputs had caused the cursor to land on a Wikipedia photo of the Brazilian football legend Ronaldinho and begin inspecting and manipulating the webpage's HTML elements.
As Hull's catalogue essay—authored in dialogue with ChatGPT—explains, digital computers cannot produce truly random numbers. While digital computers can produce what functionally appears random, digital processes are discrete and rule based, and this means the structures that underpin their production of apparent randomness could ultimately be deciphered. By contrast, the continuous, as opposed to discrete, randomness of the condensation patterns produced through the replica
Condensation Cube
in
Random Cube
is arguably unpredictable—or, if it is in some sense rule based or predictable, the level of complexity involved forces us to concede that the predictability of its pattern is only hypothetical; perhaps we could know enough about nature to one day predict where its patterns will end up, but probably not.
At one point during the exhibition, and unsatisfied with
Random Cube
's then fixation with inspecting the PC's desktop properties, Hull intervened to nudge the apparatus back onto a different course—perhaps a more visually interesting one. Apologetically, Hull conceded that
Random Cube
is somewhat of a fake, not a truly autonomous machine capable of randomness, but an interesting invocation that sometimes gets stuck and requires human agency. Intentionally or not, Hull's intervention pointed to a key misconception many have regarding algorithmically generated art and culture; namely, that algorithms could one day produce creativity and value independently of human beings.
As I write this review, a series of AI generated Drake songs are going viral—my favourite is "Winter's Cold" (purportedly by the producer Lvcci)—and provoking many to lament the end of human centred popular art. While overly pessimistic, the ability to algorithmically generate pop hits, and to thereby retain a much greater share of profits, has long been the strategic plan of companies like Spotify, and, as such, Winter's Cold's reference to betrayal, disappointment, and the receding of shared warmth feels disturbingly prescient.
Nevertheless, it is unclear that the use of predictive algorithms for the production of art can lead to the paradigm shifts associated with major works and movements. Predictive algorithms will become more and more efficient in their capacity to aggregate what the listener or viewer most likely wants to hear or see at any particular moment, but it is difficult to conceive of them having the capacity to produce something that an audience didn't know it wanted. Like Hull's intervention with
Random Cube
, human decision making will most likely be necessary to prevent algorithmically generated art from falling into boring and predictable loops.
This mutual reliance of analogue and digital systems plays out effectively in
Random Cube
, insofar as the digital computer's reliance on analogue randomness and human stewardship to guide its movements is complimented by the arresting quality of the turnover of digital images on the screen. Through sheer brute proximity,
Random Cube
makes conceptual art appear, not as a dull and elitist twentieth century relic, but as a progenitor of our accelerating screen culture. Looking at Hull's assemblage, I was struck by the similarity to TikTok duets that play communist ideology alongside TikTok eye traps, such as footage from the popular game Subway Surfers or the account Hydraulic Press. As a kind of mirror image, the condensation patterns of the analogue cube help to agitate the digital computer in random ways, while the digital agitation of random screen interactions helps to arrest the viewer's gaze beyond the average fifteen to thirty seconds of contemplation. Here is Hull's provocation; rather than framing algorithmically produced digital images as an overpowering narcotic one cannot help but consume, or as a crass distraction from the "real art" overlooked elsewhere,
Random Cube
prompts us to be open to the unpredictable confluence of attention, distraction, randomness, and control—or do I mean distraction as attention and randomness as control?— that is signaled by algorithmically generated art and culture. We should be open to the emergence of new patterns, even frightening or disappointing ones, and even if we can't quite make out their shape.
---
Image credit:
artdoc