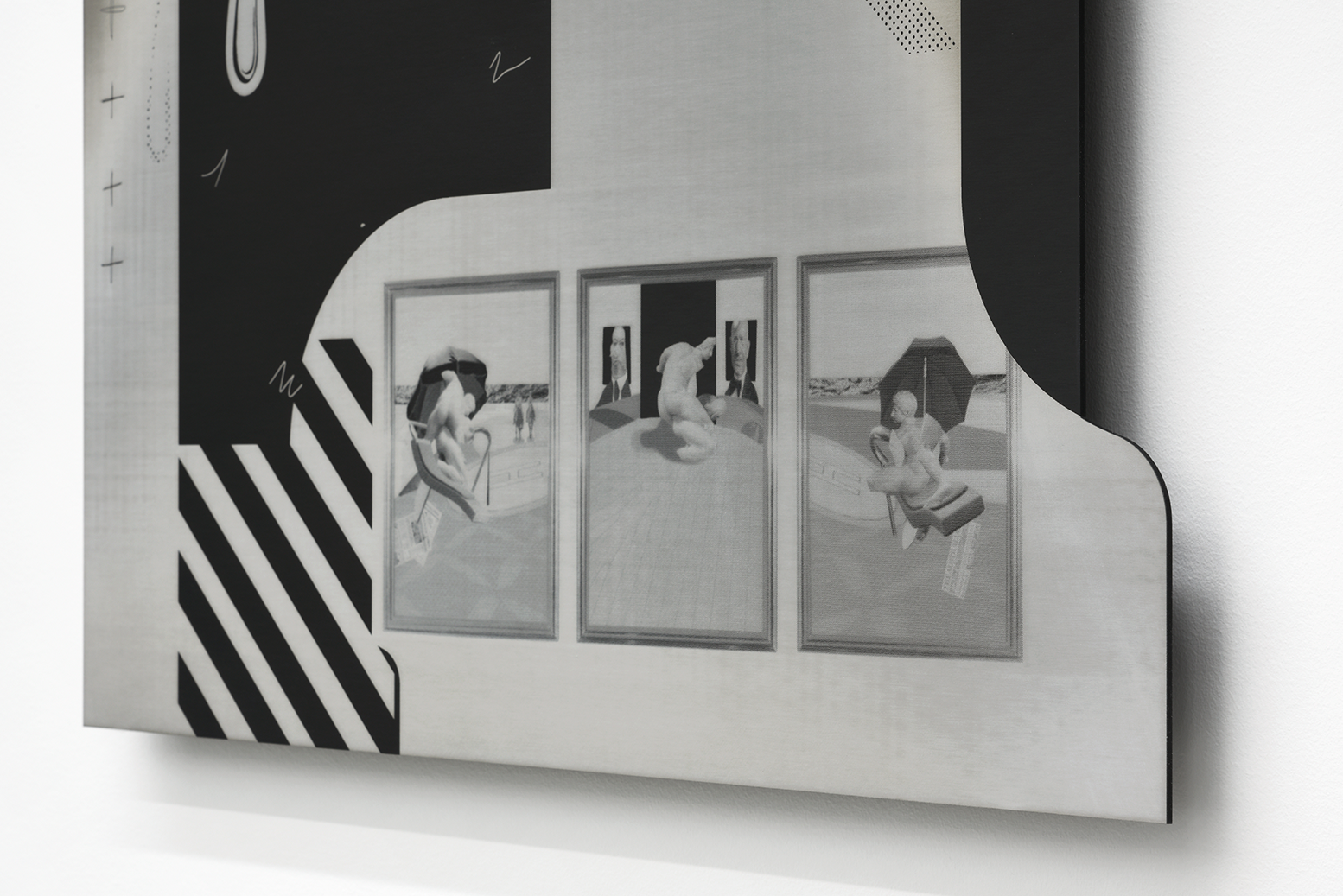 ---
---
Dan McCabe's latest solo exhibition,
Art as Asset
, is an alluring collection of laser etched anodised aluminium panels. The geometry of the panels, and their embellishments, are inspired by packaging—evoking folds, cutouts, screw-holes, and other signifiers for storing art away, rather than displaying it. It is among these motifs that McCabe conjures the primary subject matter of
Art as Asset
: the recent history of the contemporary art market. Each work takes its subject from various art market controversies, rendering them in artful post-internet imagery. They are coded images which reference and reimagine the history of art and its economies. The works, gun-metal grey with crisp black etching, contain an iconography of images (or "clues") that hint to their individual subjects. Some works are more densely coded than others, like
It's more fun to be a pirate than join the navy
. This work depicts a remix of images about the purchase of Francis Bacon's
Triptych 1974-1977
by Bahamas-based investor Joe Lewis. The triptych, said to be Bacon's last portrait of his then-recently-deceased lover George Dyer, now hangs in Lewis's opulent superyacht, the
Aviva
.
It's more fun to be a pirate than join the navy
finds its compositional antecedents in post-internet aesthetics. It does so cleverly, not trendily. With a subject as rhizomatic as the art market, it makes sense to compose images that appear like a PC display full of open tabs. Cleverly, McCabe ensures the viewer's experience of "decoding" never becomes a process of "solving" the work. It is never reductive, but always generative. There seems no didactic point at which the viewer must arrive. Instead, McCabe's works encourage critical enquiry.
Since attending the opening at Moore Contemporary this exhibition has lingered in my mind. Partly this is a testament to the quality of McCabe's work, but the exhibition also strikes a chord for another unexpected reason, hinted at in Francis Russell's catalogue essay for
Art as Asset
:
Jean Baudrillard argued that the world of contemporary art had succumbed, both in the financial and aesthetic sense, to the dominance of insider trading [...] If Baudrillard is right, the cynic's belief that the art collector is a dupe whose arrogance and hubris has obscured the truth of the absurdity of contemporary art's prices, functions to maintain a much vaster conspiracy.

This 'vaster conspiracy' may seem fanciful. If we exchange 'conspiracy' with 'complicity' we nudge closer to a more accurate apprehension of the interconnectedness of the art world and its markets. McCabe's work in
Art as Asset
dwells on this interconnectedness, between our passions for art, on the one hand, and the wealth and nefarious goings-on in the "blue chip" art world on the other. The aftershocks of recent political developments—which are not the subject of McCabe's work but are nonetheless related—are the reason why this exhibition has been rattling around in my brain. The recent controversy at
Artforum
that occurred about two weeks ago (parallel with McCabe's show) is an incident that shares the same root as musings on contemporary art world in
Art as Asset
: money and power.
The past weeks have been harrowing. The world has watched on as atrocities are acted out upon the civilians of Gaza. We have also borne witness to an art world uncertain about how to respond (if at all). Many pop-intellectuals have lent a helping hand to the bewildered. Judith Butler's recent paper in the
London Review of Books
is a detailed explanation and advocacy for us to simultaneously condemn the actions of the Israeli government
and
Hamas without being an apologist for one or the other. It is noteworthy that the first third of Butler's three-thousand-word article is dedicated to ensuring that no reader could possibly confuse Butler's condemnation of Israel's attacks on Palestinian civilians as being a defence of Hamas. This is telling of the broader discourse surrounding the conflict which, last week, saw the editor-in-chief of
Artforum
sacked. What was the cause for editor-in-chief David Velasco's sacking on October 26? His publishing of an open letter calling for a ceasefire in Gaza on
Artforum
's website. (It is worth noting that the open letter—
available here
—was not penned by
Artforum
and was also published by
e-flux
.) Signatories of the letter included Nan Goldin, Cecilia Vicuña, Barbara Kruger, Kara Walker, and Velasco himself. Immediately, the letter received criticism, with one such response, penned by Dominique Lévy, Brett Gorvy, and Amalia Dayan (co-directors of Lévy Gorvy Dayan), published the following day.
[1]
It has been reported that, soon afterwards, high-profile art collector Martin Eisenberg added to the pile on.
[2]
Sources claim that 'Velasco was summoned to a meeting with Jay Penske, the CEO of
Artforum
's parent company'.
[3]
The Penske Media Corporation includes
Variety, Rolling Stone,
and
ARTnews
in its portfolio
.
Penske has been a significant mover and shaker in the media landscape for the past decade. His billionaire father, Roger Penske, endorsed Trump's 2020 election campaign after receiving a Presidential Medal of Freedom the previous year. Reportedly, Jay Penske's meeting with and subsequent dismissal of Velasco came after a week of high-profile pressure from the likes of Eisenberg, Lévy, Gorvy, Dayan, and co. Immediately following the sacking, a petition circulated among Velasco's colleagues demanded his reinstatement. By the weekend
Artforum
's associate editor, Kate Sutton, and senior editors Zack Hatfield and Chloe Wyma, had all resigned. Wyma stated that firing 'Velasco violates everything I had cherished about the magazine and makes my work there untenable'.
[4]
As the days passed, many of the signatories of the original open letter stood resolute, while others seemed to tremble. Some even retracted their support, including Oscar Murillo, Rirkrit Tiravanija, and Joan Jonas—the latter two have major shows included in the 2024 Perth Festival program. Over the course of those same days, we were inundated with news of the shocking civilian death tolls in Gaza and the West Bank due to Israeli airstrikes. With this news, any demand short of an immediate and permanent ceasefire is increasingly indefensible. Then why this trembling from the signatories? Several who signed the open letter claimed collector Eisenberg had called around, phoning artists he'd purchased to express his disapproval at seeing their names on the list.
[5]
Big name artists are followed by big money. The inverse is also true.
This intersection of news, art, and money may seem all too tangential to McCabe's work. However,
Art as Asset
reminds us through masterfully referential artworks that these are all linked—complicit—and that times such as these demand heightened criticality of how influence is exercised by our cultural institutions. If art journalists being sacked by way of pressure from big name dealers and collectors sounds a bit conspiratorial and farfetched, it's time we discuss the Geneva Freeport, the subject of another of McCabe's panels. A freeport facility, Russell eloquently explains:
allows artworks to withdraw from public display, state scrutiny, and has accordingly been linked to a range of money laundering activities […] [a]s the legal scholars Saskia Hufnagel and Colin King have argued, norms around anonymising the identities of buyers and sellers of goods sold at auction, poor practices of openly disclosing provenance, coupled with the tax exemptions offered by freeports means that the contemporary art market has become a high risk zone for organised crime and terrorist related money laundering.

McCabe's
Storming the Geneva
depicts an unruly crowd removing crateloads of artworks, bas-reliefs, a buddha, Leochares's
Belvedere Apollo,
and more from the Geneva Freeport. Rioters throw flares from the rooftop. This simple, illustrative image depicts the "liberation" of the freeport, as renegade removalists and unruly art handlers storm the storage facility. This invented scene that shows a burning down of the hidden mechanisms of the art market is a thrilling visual experience.
Notions of repatriation (perhaps a kind of liberation itself) emerge in the elegant etching
(BM)
, which depicts a post-internet reworking of the Elgin Marbles, long possessed by the titular British Museum. McCabe's
Art as Asset
series is a playground for art history nerds—I will leave the others, notably
In the circle of
and
RIP
, for you to decode—but they are also beautifully crafted and alluring objects in their own right. The art market is a fruitful subject for McCabe. As we've seen, it is also a timely one. McCabe's previous solo exhibition at Moore,
Post Leisure
, was similarly timely in exploring the use of artificial intelligence in art prior to AI's post-ChatGPT boom. While conceptually thrilling, to me,
Post Leisure
did not present the visual mastery of this latest series.
Art as Asset
breaks new ground for Dan McCabe and offers timely sights and insights, precisely when we all could benefit from reflecting on what we "value" and how we value it.
---
Footnotes:
[1]
The response is available here https://www.artforum.com/columns/response-open-letter-october-19-518144/
[2]
https://theintercept.com/2023/10/26/artforum-artists-gaza-ceasefire-martin-eisenberg/
[3]
https://theintercept.com/2023/10/26/artforum-artists-gaza-ceasefire-martin-eisenberg/
[4]
https://www.artnews.com/art-news/news/david-velasco-artforum-editors-resign-1234685075/
[5]
https://theintercept.com/2023/10/26/artforum-artists-gaza-ceasefire-martin-eisenberg/
---
Image credits: All artwork by Dan McCabe. Images courtesy of the artist:
1.
It's more fun to be a pirate than join the navy
(detail), 2023. Laser etched anodised aluminium, 91.4cm x 68.7cm.
2.
Storming of Geneva
(detail), 2023. Laser etched anodised aluminium, 175.4cm x 100.3cm.
3.
(BM)
, 2023. Laser etched anodised aluminium, 115cm x 233.8cm.